The History of Kendama
Prior to 1600
It is widely believed that the history of the kendama dates back to ancient China, but there are actually records from 16th century France of noble children using them as toys. It is said that ancient peoples also used the kendama as training for hunting, as the spearing motion is similar to stabbing.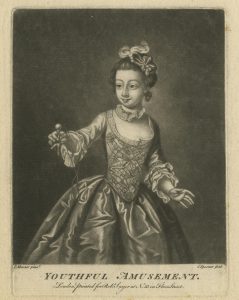 1777
The kendama appeared in a book for the first time in Japan.  It even became a popular game at drinking parties.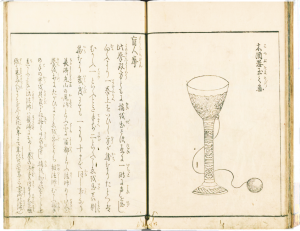 1876 (Meiji 9)
The kendama boom broke out in Japan. 


1907 (Meiji 40)
The kendama gains mainstream popularity in Japan.


1921 (Taisho 10)
Egusa Hamaji, who had been living in Osaka at the time (but was originally from Kure), paid a visit to Hon Goukikou (now Hongou Corporation), a company that at the time produced furniture and other small goods. Egusa brought a blueprint, along with a prototype of Kendama (with a singular rod and ball), and requested they start manufacturing it. It was the first time that the design for the modern kendama was conceptualized.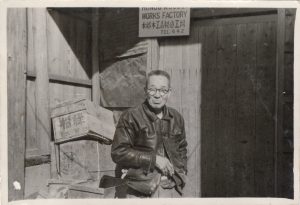 For years, the kendama had been a single rod with a ball attached by sting, but during this time a small saucer was added to the design, giving us the kendama we know today.  The origin of the kendama, the birthplace of its iconic shape, comes from Hatsukaichi.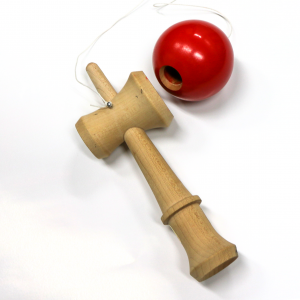 1924-1927 (Taisho 13-Showa 4)
Until now, each kendama had been painstakingly made by hand, but from 1924 Japan's labor force saw a drastic increase in numbers, making production easier and increasing sales. It was a big boom for the kendama.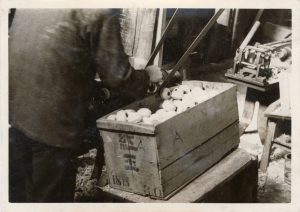 1945 (Showa 20)
After the war, a lot of companies turned to in house manufacturing, and production of the kendama began again.


1975 (Showa 50, May)
The Japan Kendama Association (a publicly traded company) was founded in Tanashi, Tokyo (present day Nishitokyo, Tokyo). The first chairman was Issei Fujiwara, who was also a children's storybook author.


1979 (Showa 54)
The first ever "All Japan Kendama Tournament" was held in Tanashi.


1983 (Showa 58, May)
The first ever "West Japan Kendama Tournament" was held in Kumamoto prefecture, Oguni-cho.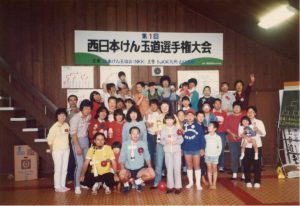 1984 (Showa 59, June)
The second annual "West Japan Kendama Tournament" was held I Hatsukaichi.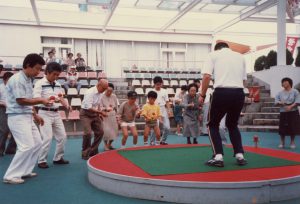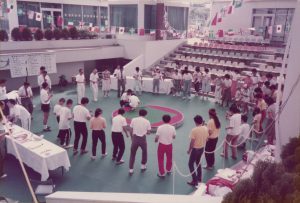 1975-1998 (Showa 50-Heisei 10)
Hatsukaichi, which had used the popularity of the kendama to attract tourists starts to see a decline in news coverage, in addition to demand for the kendama. Due to this fact, the number of factories that produced kendama by 1975 were only three.
In 1998, the final remaining factory ceased production, and with it the history of kendama in Hatsukaichi came to an end.


2000 (Heisei 12)
In 2000, Hatsukaichi city's tourism association, along with the city's chamber of commerce partnered with local lumber manufacturing centers to revive the production of kendama.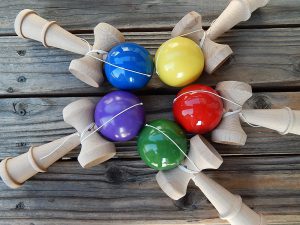 2011 (Heisei 23)
Since 2011 in Hatsukaichi, kendama are handed out to the city's first graders from the manufacturing center in an effort to promote them.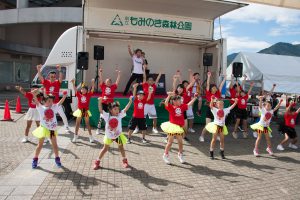 2014~ (Heisei 26~)
Since 2000, the city of Hatsukaichi has resumed attempts to promote itself as the "birthplace of the kendama", and has aimed these efforts on enthusiasts from abroad, particularly in America, by creating the first ever "Kendama World Cup" in 2014.
Ever since, the tournament has been held every year (2015-2019). However, due to the pandemic, it has had to move to an online venue.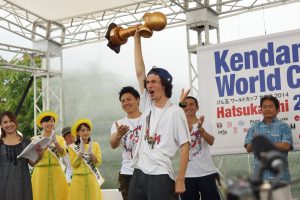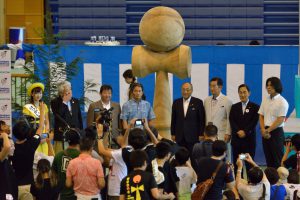 2021~ (Reiwa 3~)

The 100th Anniversary
It has been 100 years since the kendama was first manufactured in Hatsukaichi. To celebrate this fact, and to mark the occasion, the city is planning to hold various events and festivities throughout.
The kendama, connecting past and present, people to people, as well as dreams to dreams.
We want 2021 to be a year of great joy and smiling faces to mark this momentous occasion. We hope that everyone is looking forward to it, and are just as excited as we are!