How Many Can You Find?  The Hidden Kendama of Hatsukaichi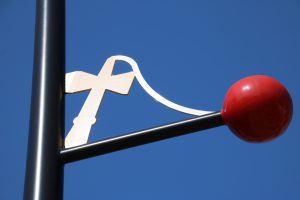 From the moment you step off the train at Hatsukaichi station, you'll notice one thing for sure: There are Kendama everywhere!  From advertising designs, to monuments, you can't miss it.
It's only a short walk from Hatsukaichi station, to the Kendama shopping district, but even then the path is packed with numerous kendama references. From the city's mascot (Tama-chan), to kendama themed manhole covers, to statues, you can't go anywhere in the city without seeing references to Hatsukaichi's history.
Here we will introduce some of the best spots for Kendama! The next time you're in Hatsukaichi be sure to try and find them all.
The girl of the kendama shopping district: Tama-chan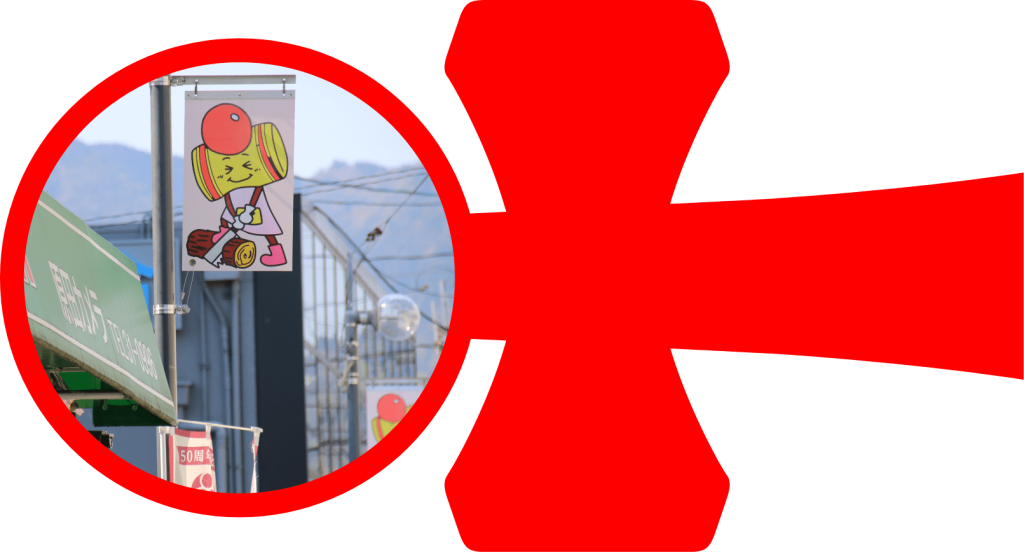 Tama-chan, Hatsukaichi's mascot, and the perfect embodiment of Kendama, can be found all around the city. The depiction of her chopping wood with eyes scrunched up together in a smile gives off a hardworking and energetic vibe to everyone who passes by!
The kendama shopping district links Hatsukaichi station and the National Route 2 Highway. Whether it be by foot, or by car, when you travel through here, be sure to look skyward for glimpses of Tama-chan!                                                                                                                                                                                                                                                                                     
A children's picture book-like endearing designs!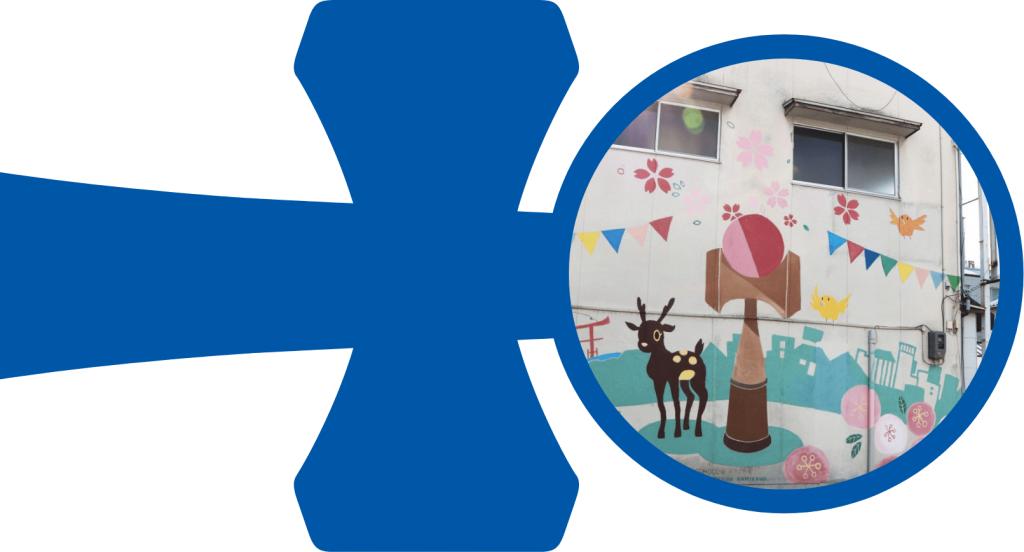 In the middle of the kendama shopping district is a large and very sweet mural of kendama. The mural was painted by high school students from the creative expression course at Hiroshima Municipal Motomachi Sr. High School.The students used ideas and principles learned at school for the design and execution of the piece. With its creativity and vibrant colors, it really comes to life right before your eyes! Don't miss out o the opportunity to snap some photos while you're here!
It is located near the National Route 2 Highway along the main street of kendama shopping district.                                                                                                                                                                                                                                                                                     
Unique manhole covers that draw visitors from far and wide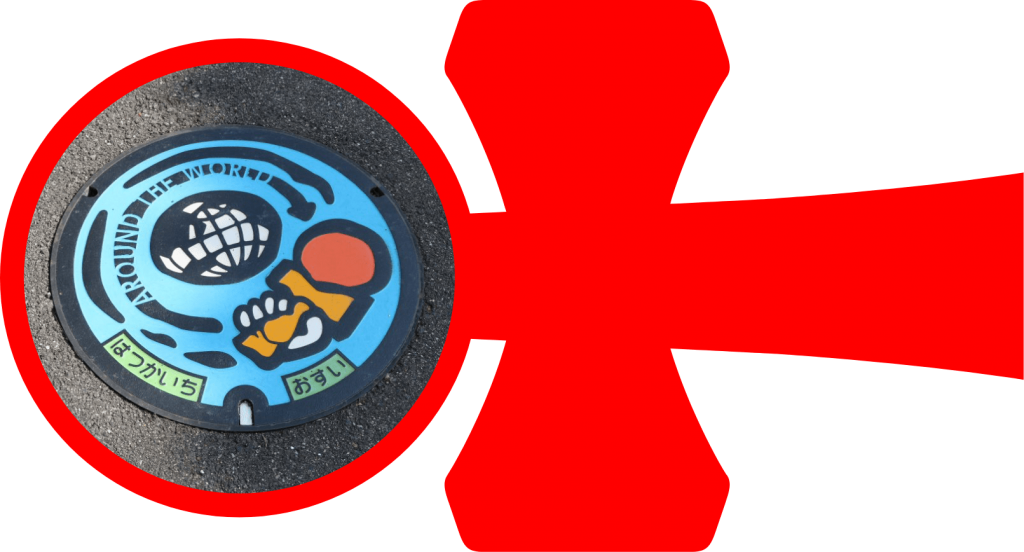 Starting in the kendama shopping district, and spanning the rest of the city, are multiple manhole covers depicting kendama. Each cover showcases different moves or forms, so there's a lot to see! For kendama enthusiasts wanting to really make the most out of their visit, it's recommended they try to perform the same tricks while taking a video or photo.
Continuously looking up and down might leave you a little dizzy, but don't miss this fun opportunity!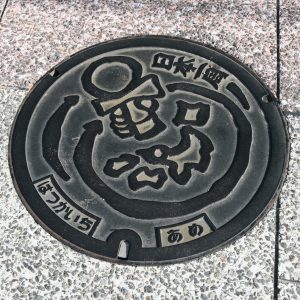 A massively popular spot: The kendama stone monument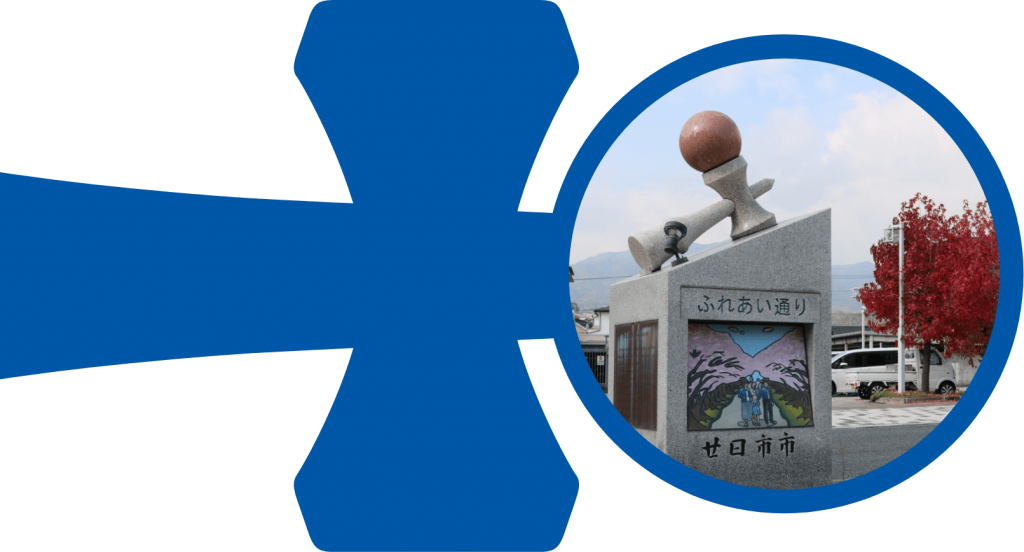 Nestled between the kendama shopping district and city hall is what most people refer to as "kendama park". There, at the entrance, is a massive art sculpture in the shape of a kendama. The sculpture was constructed in 2014 for the first-ever "Kendama World Cup" held in Hatsukaichi. Participants that year came together to take photos in front of the monument, and from there on it became a memorial of sorts for enthusiasts. 
While you're in this kendama park area, be sure to take a glance down as well for some other hidden Kendama references…                                                                                                                                                                                                                                                                             
Just as the name suggests, Kendama park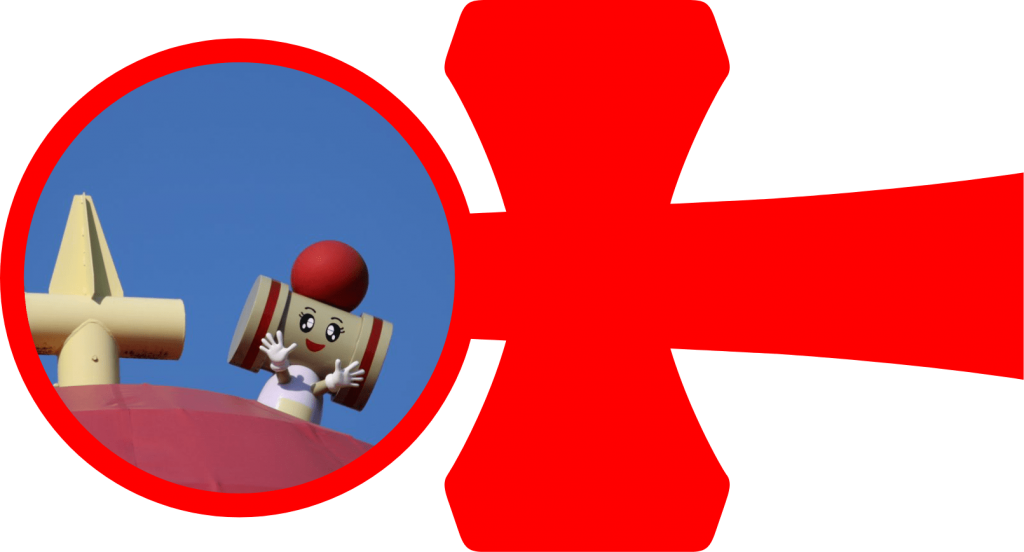 The most intriguing of all the hidden kendama spots — Kendama park (official name: Shingu Central Park).
Tama-chan isn't the only Kendama reference hanging out high above. Take a break on a park bench and you just might notice something unique about the shape of the playground equipment surrounding you.
Please check the playground equipment in this park –how many kendama can you find?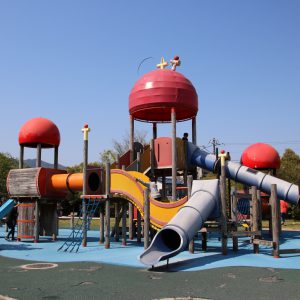 The sky's the limit! Giant kendama all-stars!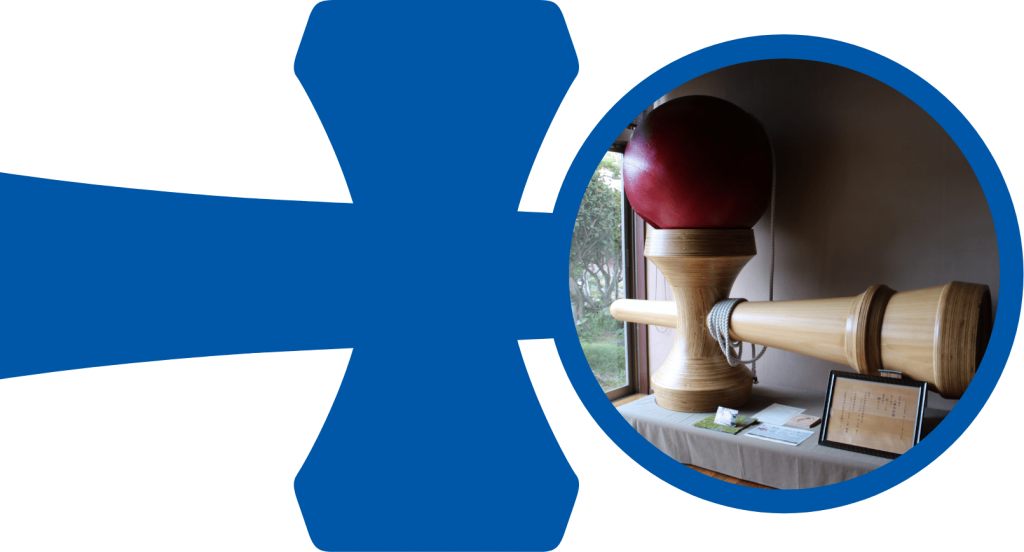 Hatsukaichi is not only known as the birthplace of Kendama, but also for its woodworking. When the carpenters of the city were presented with a large piece of lumber, there must have been only one thought …"Let's make a giant kendama!"
There are several giant kendama located around the city. Hatsukaichi City Hall, Youme Town, and Miyajima Grand Hotel each offer impressive sculptures. A normal kendama comes in at just 18 cm (or 7 in). It might be fun to calculate just how big person would have to be to use these giant sculpted kendama!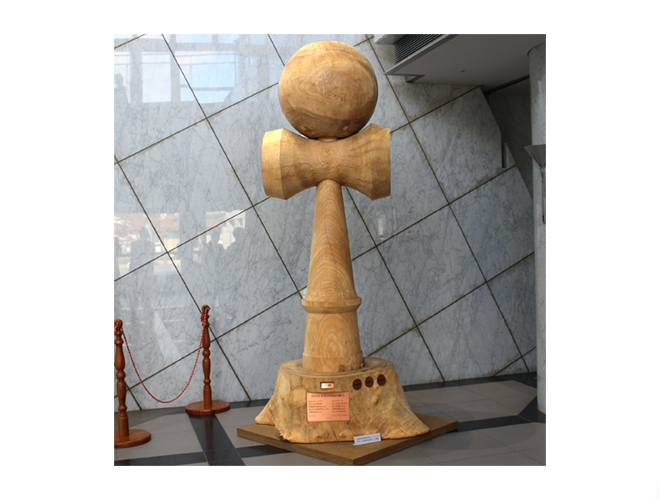 There are many more hidden Kendama sites waiting for you around Hatsukaichi.
So on a nice day getting out and stretching your legs with your friends or family
for a kendama tour might be a great way to spend the day!